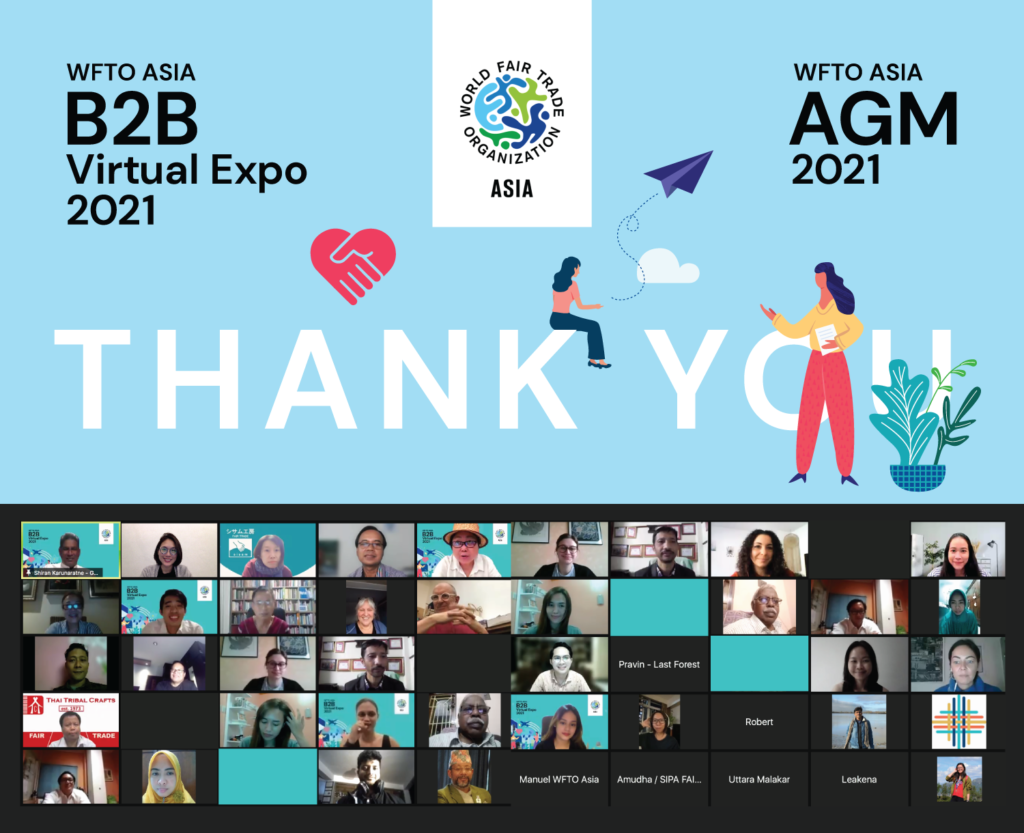 November 19, 2021

The Board of Directors, management and Secretariat of WFTO Asia would like to warmly thank our active and dynamic members and representatives of the Asia Fair Trade Enterprises who had been a significant force behind the success of our two consecutive events; the WFTO Asia B2B Virtual Expo 2021 and the Annual General Meeting (AGM) 2021 held on November 18 and 19 respectively.
The Annual General Meeting was successfully and smoothly held on November 19, 2021, special thanks to Dr. K Panchaksharam (Panchu Ji) for his excellent facilitation during the business session.
We were delighted to reach the AGM quorum of 71 Asia members in total at the time of the meeting. This was composed of 65 eligible members that directly participated online and 6 proxies were submitted prior to the meeting.
Moreover, from the 3 approved resolutions of WFTO Asia, two highly significant resolutions, namely: "Resolutions 2: On Climate Crisis" and "Resolution 3: On Promoting & Strengthening of Fair Trade and Membership growth across the Globe" were elevated and presented at the 2021 eGM of WFTO Global. At this important time, we strongly encourage all eligible members to exercise your right and vote on the two Asia's Resolutions.
How and when to vote:
Voting will be done electronically starting from today and closing on 6 December 2021 at 17:00 CET.

The link to vote and a step-by-step instruction for participating in the eGM and voting has been sent by email to all eligible members on November 23, 2021. If you have problems voting and require assistance, please email [email protected] with the subject line 'eGM Voting' or contact the WFTO Office.