Jerome L. Montemayor
Executive Director
Jerome is a development professional with 28 years of wholehearted engagement in the social development work including in areas of education as well as sustainable development and conservation work in the Philippines and across Asia. Jerome's area of expertise is in development and fundraising with involvement covering the line of work in program development, management and implementation, community engagement, resource mobilization, education and training, partnership-building, as well as information and communications. Prior to joining WFTO Asia, Jerome held the OIC Regional Director of the Regional Centre for Asia (RCA) position at the International Institute of Rural Reconstruction (IIRR) for three years from 2016-2018. His recent post also includes an Assistant Professor Lecturer position for the Graduate program at the De La Salle University, Manila, Philippines.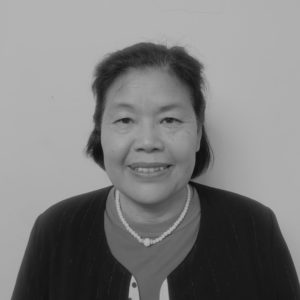 Siriphan Panyakom
Accounting and Finance Head
Siriphan has over thirty years of experience in accounting and finance. From 2013 to 2020 she worked as the Director of Office of Finance at Payap University in Chiang Mai, Thailand. Alongside her professional accounting career, Siriphan lends her expertise and time to social work, especially in the area of ethnic minority women empowerment.  Currently she is the Secretary of Women Church of Christ in Thailand. Her previous volunteering positions also include Chair of Thailand Karen Baptist Women's Union, and Chair of Women Baptist Federation in Thailand.  Siriphan holds a Bachelor of Accountancy from Payap University as well as a Master of Business Administration from Chiang Mai University.

Cherry Sripan
Fair Trade Communications and Advocacy Manager
Cherry Sripan holds a Bachelor's Degree in International Studies with concentrations in International Business and Globalisation Studies from Humboldt State University, California. She is committed to social and environmental justice and addressing the inherent problems in conventional trade. Her previous advocacy work includes raising environmental awareness as a team member at the North Coast Environmental Center in California, and promoting sustainable agriculture and public health with the International Centre for Technological Innovation (ICTI) in Kerala, India.