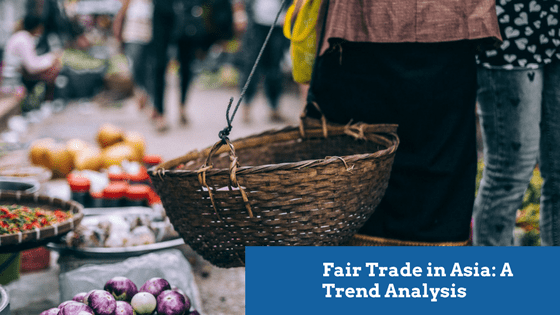 Consumers across the globe are looking to buy products that are more ethical and sustainable, and it appears this is a trend that will only become more important in the future. Firms that are already positioned in this sector will have the best opportunities to grow in the coming years, as brand awareness will be key. Nielsen's 2015 report on sustainability noted a large gap between the demand for sustainable products and the current supply. Taking advantage of this demand gap and becoming a recognized brand name is important for fair-trade or sustainable companies looking to scale up their business. Yi-Hui Chiang found perception recognition to be the second most important factor affecting purchase decisions, after product value in his study on fair-trade purchasing determinants. Clearly, being recognizable and having a trusted brand is key to spur growth.
Brand Recognition
Marketing is a major aspect in working to gain brand recognition. Mary Jo Cook, the Chief Impact Officer at Fair Trade noted that many brands in the industry lack the funds to run a large-scale marketing campaign. She stated, "If you have a limited marketing budget and are trying to expand your reach, create content for your social media streams that your customers will want to share with their friends". This is a good strategy to avoid continually reaching the same audience, which generally occurs with this strategy. Thankfully, fair-trade has an advantage that lends itself well to this marketing strategy. Fair-trade consumers have a far higher than average Net Promoter Score. This means that customers are more likely to spread the company's news to their friends through word-of-mouth, are more loyal to the brand, and have a higher rate of satisfaction with the product. Word-of-mouth would seem to lend itself well to the realm of social media, where sharing posts with a larger audience can be easily done. Per Katie Barrows, the Communications Manager at Fair Trade, the strategy that has been successful so far is, "… to post stories about the farmers it positively impacts and inspirational quotes with universal appeal. People want to share content that makes them feel empowered". This general strategy should be applicable to companies in other sectors of the fair-trade movement as well.
Disadvantages
While perception recognition is extremely important, product value is the most important factor affecting purchasing decisions. Given that Fairtrade products are on average 10% more expensive, per Kirezli and Kusco, firms are operating with an initial disadvantage in this area. Fortunately, there are several mitigating factors and consumer trends to offset this disadvantage. Among these is the link between luxury goods and fair-trade goods. Due to many fair-trade companies emphasizing this link, fair-trade goods have an improved value proposition per The Luxury of Sustainability: Examining Value-Based Drivers of Fair Trade Consumption. This positive perception helps to mitigate the impact of the pricing increase on consumers, particularly those who are not focused on the social impact of the product.
Positive Trends
Several purchasing trends identified by Nielsen back up the idea of consumers placing value on a company's social and environmental impacts. This social value improves the value proposition of a product to equal or greater levels compared to products created without fair-trade for many consumers. A product being sold by a company known for its commitment to social value had a heavy or very heavy influence on 43% of consumer's purchasing decisions in a survey encompassing 30,000 consumers in 60 countries. The same survey found that 56% of consumers are willing to pay more for products from these companies. The regional outlook is similarly positive for Asia, with consumers in developing markets (Latin America, Asia, Middle East, and Africa) 23-29% more willing than consumers in developed nations to pay a higher price for sustainable products. Globally, 66% are willing to pay a higher price, up from 50% in 2013. These large jumps in willingness to pay a premium for sustainable and socially responsible products bode well for the future of environmental and fair-trade companies. The trend is even more prominent amongst the under-20 category, at 72% willingness, up from 55% in 2014. Grace Farraj, SVP of Public Development & Sustainability at Nielsen, said, "Brands that establish a reputation for environmental stewardship among today's youngest consumers have an opportunity to not only grow market share but build loyalty among the power-spending Millennials of tomorrow, too". Given that these consumers will be around for years to come, and future generations will have an even stronger inclination if the trend continues, fair-trade and environmentally focused companies appear to be in a good position. Maintaining brand recognition and consumer confidence in the social and environmental impacts of the fair-trade sector will be particularly important in the future, to maintain perception differentiation from companies that are increasingly engaging in corporate social responsibility or greenwashing. Branding of individual companies and certifying organizations should continue to maintain a perception gap between the two groups to make sure that they capitalize fully on this trend and increase market share.
Growing Locally
So far, this appears to have been successful, as Nielsen found that brands committed to sustainability grew by about 4%, while other brands grew less than 1% globally in 2014. Increasing accessibility of these products, as well as making them more convenient to purchase can improve growth outcomes for individual companies. Another strategy could be targeting local consumers more than is currently done. Many fair-trade businesses focus primarily on western consumers, but the data shows that there is a larger local market than previously believed. Surprisingly, consumers with incomes below $20,000 USD are 5% more likely to pay more for products from companies committed to positive social and environmental impacts compared to other consumers, per Nielsen. As the economies in Asia continue to grow and purchasing power increases, having an established brand that is known and recognized for its social mission by local consumers could prove to be an important advantage in maintaining a local market share.
The Future of Fair Trade
Fair-trade companies appear to be in a good position to capitalize on consumer trends both at home and abroad. Considering advantageous trends in value-perception, willingness to pay more for ethical products, increasing support among younger demographics, and a more marketable narrative than traditional business; fair-trade companies are entering a time-period that should allow increased opportunity for growth. Whether that growth comes in the form of more fair-trade companies or a few fair-trade companies scaling to become major brands likely depends on whether companies can develop brand recognition and keep it, along with their values, through the scaling process.
By Iain Kirsch , Winter'17  Research Intern, WFTO Asia
_________________________________________________________________________________________________
References: 
Chiang, Yi Hui. "What Determinants Matter on Fair Trade Products Purchase: A Case Study of Taiwan." International Journal of Innovation and Sustainable Development 10.4 (2016): 384-98. Web.
Clifford, Catherine. "Lessons From Fair Trade on How to Make Your Brand Message More Powerful." Entrepreneur. N.p., 14 May 2013. Web. 27 Mar. 2017.
Kirezli, Ozge, and Zeynep Kabadayi Kuscu. "Exploring Fair Trade Attitude and Fair Trade Behavior of Turkish Consumers." Procedia – Social and Behavioral Sciences 58 (2012): 1316-325. Web.
Schmidt, Steffen, Nadine Hennigs, Stefan Behrens, and Evmorfia Karampournioti. "The Luxury of Sustainability: Examining Value-Based Drivers of Fair Trade Consumption." Handbook of Sustainable Luxury Textiles and Fashion Environmental Footprints and Eco-design of Products and Processes (2015): 121-36. Web.
"The Sustainability Imperative: New Insights on Consumer Expectations." (n.d.): n. pag. Nielsen.com. Nielsen, Oct. 2015. Web. 27 Mar. 2017.
Verhoef, Peter C., and Jenny Van Doorn. "Segmenting Consumers According to Their Purchase of Products with Organic, Fair-Trade, and Health Labels." Journal of Marketing Behavior 2.1 (2016): 19-37. Web.