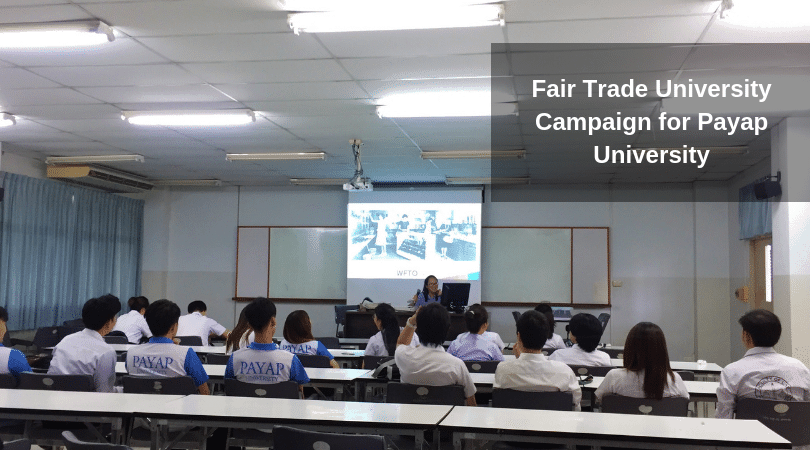 In May, Payap University (PYU) and the World Fair Trade Organization Asia (WFTO Asia) signed a Memorandum of Understanding. The partnership aims to develop the capacity for faculty at PYU to embed Fair Trade principles into their curricula and syllabi and thus enable the delivery of this content to the student body and other related stakeholders such as vendors, suppliers, etc. In addition, PYU is in the process of developing and launching a new undergraduate degree program titled 'Innovation and Social Enterprise'. Within this curriculum, the subject of Fair Trade will be taught and practiced through courses and service learning opportunities.
One of the many goals this partnership aims to achieve is instituting PYU as Thailand's first Fair Trade University. Put simply, Fair Trade Universities are universities with a commitment to creating a Fair Trade-friendly student body and thus, society. This would include ensuring the availability of Fair Trade products on campus (food, drinks, and clothing); raising awareness of Fair Trade's role in addressing poverty and inequality; and including Fair Trade in the procurement policy, giving Fair Trade a preference over conventional products. The prioritization of a Fair Trade ethos across campus operations aims to change the way students, staff, and faculty think about international trade, as well as how they conduct their day-to-day lives as consumers.
"We see the Fair Trade University campaign as a way to support Payap's "Whole Person Education" principles by providing valuable opportunities for the Payap community to engage in activities aimed at developing the knowledge gained in the classroom into student-led projects promoting social responsibility, sustainability and service learning, thus helping to develop the characteristics of our Ideal Graduates." — Michael Meallem, Program Manager at Center for Social Impact, Payap University
With generous funding support from the United Board for Christian Higher Education Asia, the Fair Trade University campaign for Payap University is in full swing. At the start of September, Payap organized a week-long workshop that included presentations by WFTO Asia, introducing Fair Trade to the campus. So far the initiative has been well received, with many students already keen to get involved. Going forward, Payap and WFTO Asia's role will be to support students as they start their own Fair Trade campaigns and activities.