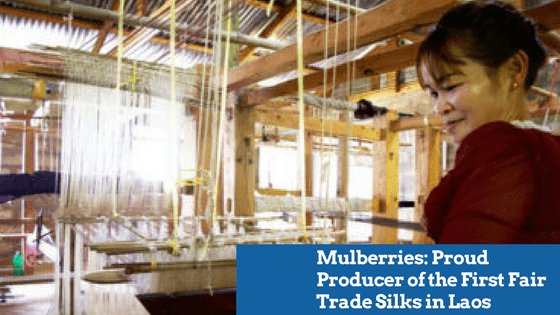 Located just outside Phonsavan, Mulberries Organic Silk Farm is a 45-hectare model farm dedicated to the revival and survival of all aspects of traditional Lao silk production. Mulberries' mission is to "create income-generating opportunities for Lao people in a socially and environmentally responsible manner." They provide rural villagers with training and support in silkworm rearing and in the traditional art and craft practices of weaving.
An inordinate amount of work goes into producing a shimmering Lao silk garment, and the journey is as magical as the finished product. To follow this journey and get up close and personal with wiggly worms in the process, WFTO-Asia visited Mulberries' founder Kommaly Chanthavong, and her daughter, Boby Vosinthavong, for a guided tour.
It starts with leaves – luscious, green mulberry leaves. These are the main food for the silk worms. "This year has been very dry, so we've had to prune our trees very short, normally it's to shoulder length," explains Boby. The leaves are harvested and distributed to the villages that Mulberries work with, so the cooperative workers can fatten up the silk worms.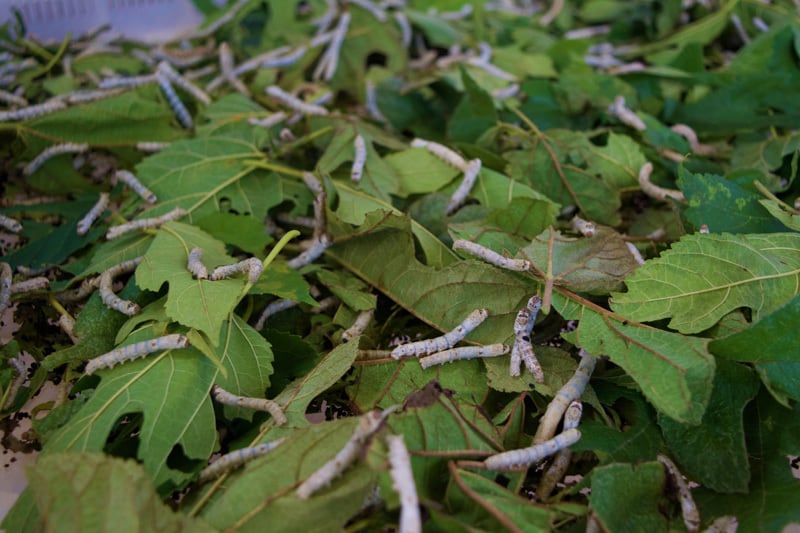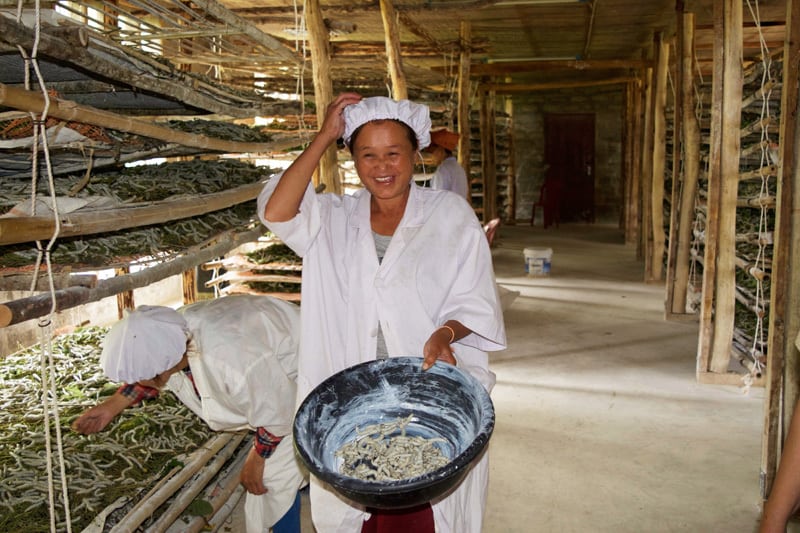 The worms fatten up in purpose-built "nursing homes". Mulberries build a worm house in each village, providing the materials free of charge. Inside, the worms munch and sleep. In one nursery, there can be up to 22,000 worms. They are treated to the best organic leaves, a cool breeze if they are too hot, and warm fires if it gets cold. Once they have had their fill, the worms are moved into a specially designed rotating frame to create the silk cocoon.
The cocoons create the silk thread. One cocoon can produce about 150 to 300 metres of silk. This raw silk thread has three layers: outer, middle, and inner, with the inner layer providing the best quality.  When the cocoons are ready, they are boiled and threaded using either a traditional or semi-automated model.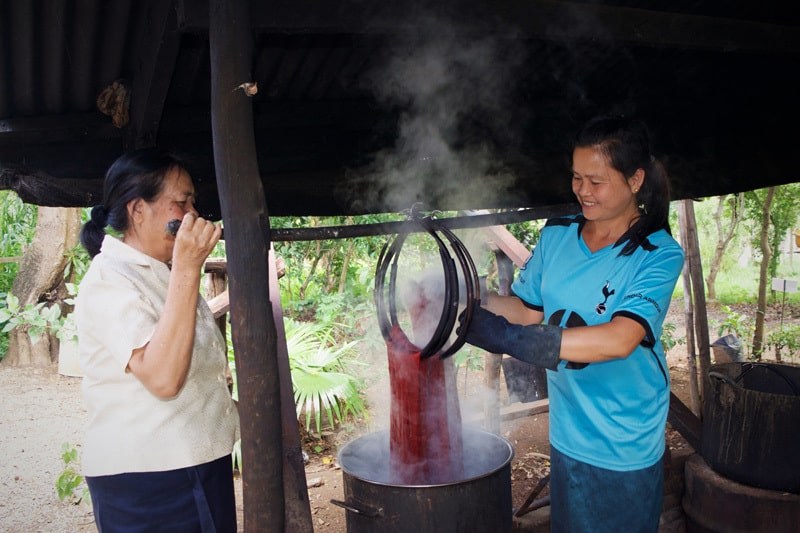 The silk is then died using natural dyes. The whole site is blooming with different plants and flowers that are used to create an amazing array of natural colours, like indigo. Mulberries boasts an ability to create up to 100 different colours! The waste of making the dyes goes into composting. All the by-products of raising the silk worms and "harvesting" the silk thread are made into tea or skin care products, or composted. "It was always my vision," explains Kommaly, "that the whole process from farm to finish would be organic, would be in relationship with the land and what we produce."
After the dyed silk is dried, the weavers take it to their wooden looms and create intricate patterns rich with meaning. In the North of Laos, the Naga, a water dragon famous in Laotian folklore, is visible in many designs. Kommaly shows us a scarf and explains that "the pattern shows a love story between an elephant and a Naga. It's a cross love, like a foreigner marrying a Laotian – their love story."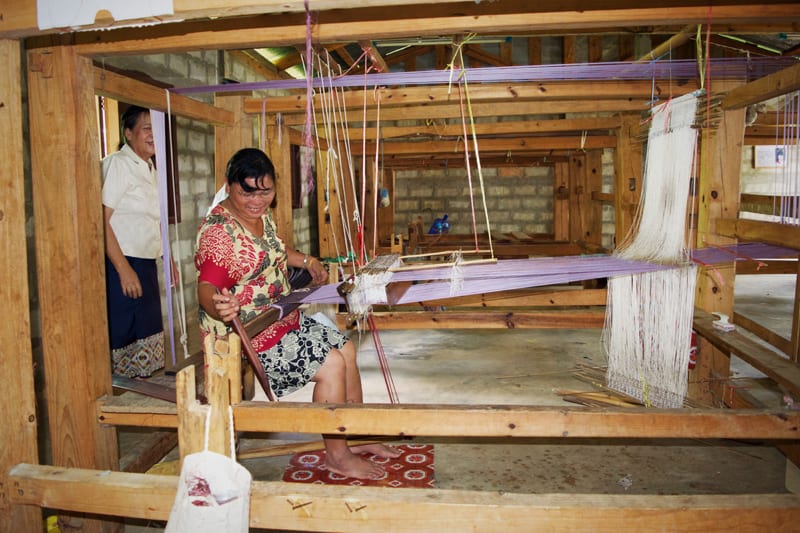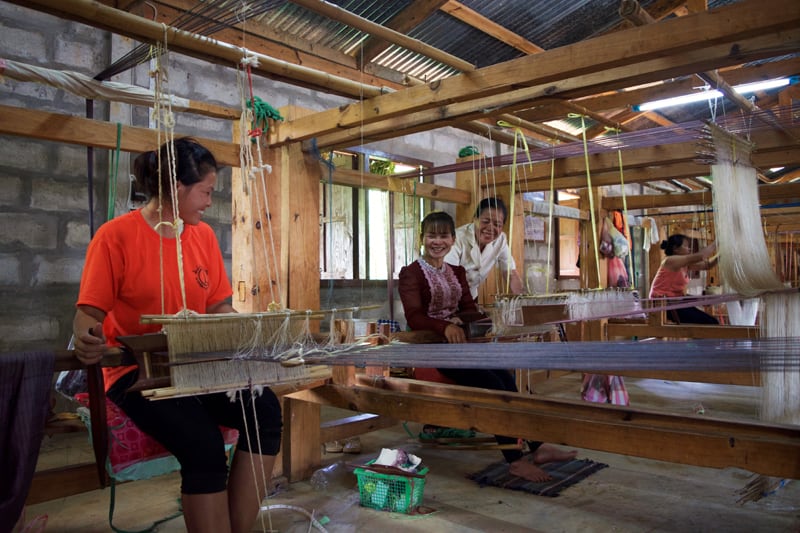 Love seems to be a theme at Mulberries. Kommaly is still passionately involved in her work. When WFTO-Asia asked her what her secret is, she said: "My passion comes from love and the way that I was raised. I grew up in a community where we all supported one another. There was no market, so we had to be self-sufficient, and we helped, cared, provided for and sustained one another. I wanted my business to be one where people were not just thinking of material things and destroying the environment. I wanted my workers to be able to work with love, to share and care for one another as a community. Love is the most important thing."
(image credit: Mia Hadrill)
About Author:
Mia Hadrill is an advocate for Fair Trade and sustainability; she previously held a position at WFTO-Asia as Communications Manager. Prior to this, Mia worked directly with the CEO heading PR at People Tree, sustainable and Fair Trade fashion. Mia's a CIPR Accredited Practitioner in Public Relations (PR), experienced in communications and advocacy for social businesses. Mia has also worked in advocacy for The Leprosy Mission, where she became a published author of an educational children's book on leprosy. Mia's experience extends to positions as a sustainable travel researcher and as PA to the Chair of the United Nations Association – Edinburgh.