WORLD REFUGEE DAY — CELEBRATING REFUGEES' STRENGTH AND RESILIENCE AND FTES WHO SUPPORT THEM THROUGH THE PANDEMIC
Annually, World Refugee Day is an occasion to honour refugees and to celebrate the strength and courage of people who have been forced to flee their home country to escape conflict or persecution.
This year, World Refugee Day is commemorated amidst COVID-19, the pandemic that has turned the world upside down. COVID-19 has disproportionately affected the poor and marginalized. Refugees are among the most vulnerable groups impacted by the pandemic and hit the hardest during the social and economic slow turn.
Artisans' livelihoods—including refugee artisans—are severely affected through supply chain disruption, forced operation closures and order cancellation.
As a response to these challenges, WFTO Asia and Fair Trade Enterprises (FTEs) in the region launched the People's Mask — an initiative aimed to provide a means for artisans to earn an income, ease the pressure on the demand of surgical masks, support non-medical frontline and essential workers, and combat the spread of the coronavirus. This is part of the larger initiative of producing Fair Trade Personal Protective Equipment (PPE), which is the initial component of the 'Fair Trade COVID-19 Response' of WFTO Asia.
As a product #PeopleMask is a reusable fabric face covering made and traded under Fair Trade conditions. It's made using the open-sourced #HKmask designed by Dr. #KKwong.
In these testing times, we want to celebrate refugees' strength and resilience, as well as to highlight FTEs who are supporting and empowering refugees to contribute their skills and talents to help during the pandemic.
Meet some of WFTO member in Asia (FTEs ) who are doing their bit on the pandemic's frontlines.
EARTH HEIR
Based in Malaysia, Earth Heir works with refugees from Afghanistan, Syria, Myanmar and beyond to create beautiful Fair Trade jewellery and accessories for MADE51, a UNHCR initiative. When the crisis hit, Earth Heir was one of the first FTEs to pivot and start producing PPE.
"Our goals are to support and honour our frontline heroes, and to continue to provide income to the refugee artisans we serve. They are one of the most vulnerable groups during this pandemic and are hit the most during an economic slowdown," Xiao Cheng Wong, Earth Heir's CEO, told the UNHCR.
Through their fundraising for PPE initiative, as of end of May, Earth Heir distributed more than 24, 209 pieces of PPE, including gowns, headcovers and shoe covers to Malaysian medical personnel, frontline social workers and others involved in the management and control of COVID-19.
Support Earth Heir in their goal for the final fundraising round: Make a donation via Paypal to ensure PPE supply to frontline workers in Malaysia.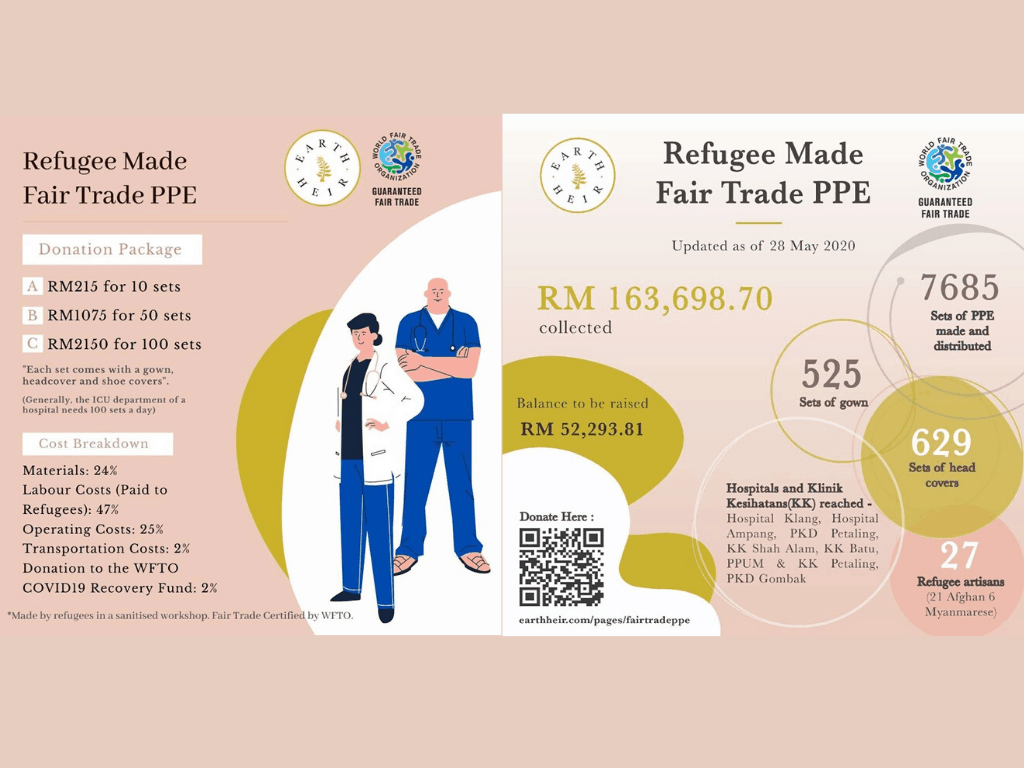 HOMELAND DEVELOPMENT INITIATIVE FOUNDATION (HDIF)
When the crisis hit Armenia, HDIF sprung into action, mobilising their network of artisan partners in Yerevan and across the country to start producing People's Masks.
To date, HDIF had sewn and sold an astounding 16,000 PPE masks, exporting as far afield as the US, Europe and Africa; helping to combat the spread of COVID-19 at home and aboard.
Proceeds from sales of #PeoplesMasks go to supporting artisans in rural Armenia and refugee artisans who HDIF partners with.
Beyond that, HDIF has been extending a helping hand to the Armenian people through the donation of the #PeoplesMask. HDIF and partners — including commercial, government, and civil society— have donated over 7,000 face coverings to groups including youth, women, refugees, the elderly and persons with disabilities.
Buy online Help support livelihoods of rural artisans and refugee artisans in Armenia.
Donate masks in Armenia, contact [email protected]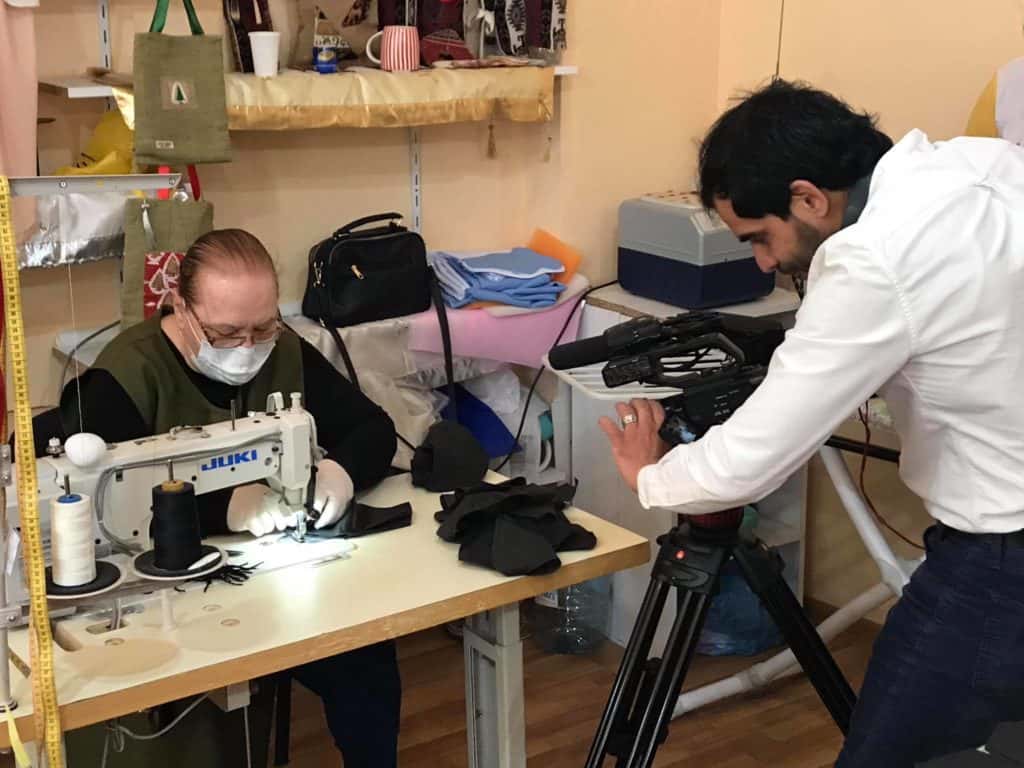 WEAVE FAIR TRADE
WEAVE​ is a key​ collaborator​ of #PeoplesMask. The Chiang Mai-based FTE is drawing on the skills of the refugee artisans it works with to produce 100% cotton People's Masks for personal use.
WEAVE focuses their work on marginalized​ and​ poor communities, including​ refugees​, they are the priority​ to​ receive intervention​ and​ support​ service.​ In​ Thailand​ alone, there​ are​ approximately 94,000​ refugees​ in​ nine​ refugee​ camps.​ Part of WEAVE's response is donating masks to refugee communities to ensure they're not forgotten and have access to the protection they need.
WEAVE​'s​ immediate​ and​ targeted​ COVID-19​ response​ for ​women​ and​ children​ is​ ongoing.​ For​ every​ purchase​ of​ five #PeoplesMasks, one mask​ will​ be​ made​ to​ a​ refugee.​ Help​ WEAVE​ reach​ out to them.​
To​ order, contact​[email protected]​ or​ [email protected]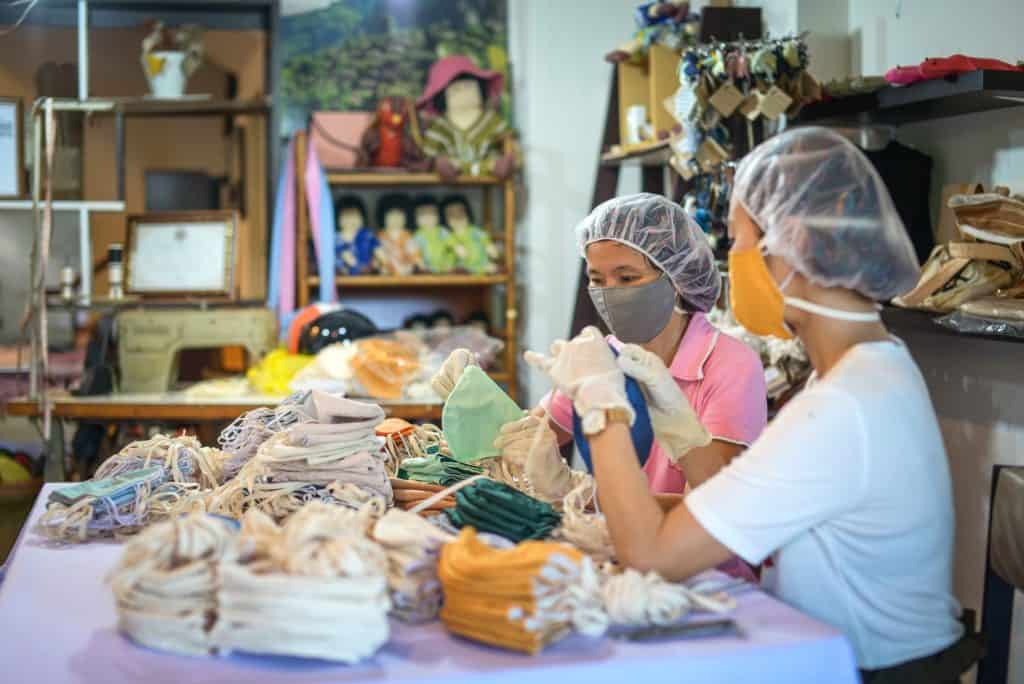 FAIR CIRCLE
Working behind the scenes to support producer organisations in the WFTO Asia network, Fair Circle is calling for donations to fund the production of People's Masks.
Money raised goes directly to organisations so they can continue to employ artisans to produce PPE. The masks they make are then donated to communities in need.
Focusing its efforts on Thailand, Bangladesh, Nepal and India, Fair Circle is aiming to raise enough money to fund the production of 50,000 masks in total for most vulnerable groups.
Up to date, Fair Circle has supported 42,000 pieces of People's Mask production; of that 4,000 pieces were produced by refugee artisans of WEAVE Fair Trade, and distributed to elderly women in Ban Nai Soi and Ban Mae Surin refugee camp in Northern Thailand; 8,000 are produced by another Fair Trade Enterprise Prokritee in various production sites across Bangladesh, and distributed to producer families, rice farmers, production villages, and refugee camp in northern Bangladesh.
Donate to FAIR CIRCLE and help them reach their 50,000 goal of getting essential face coverings to vulnerable communities.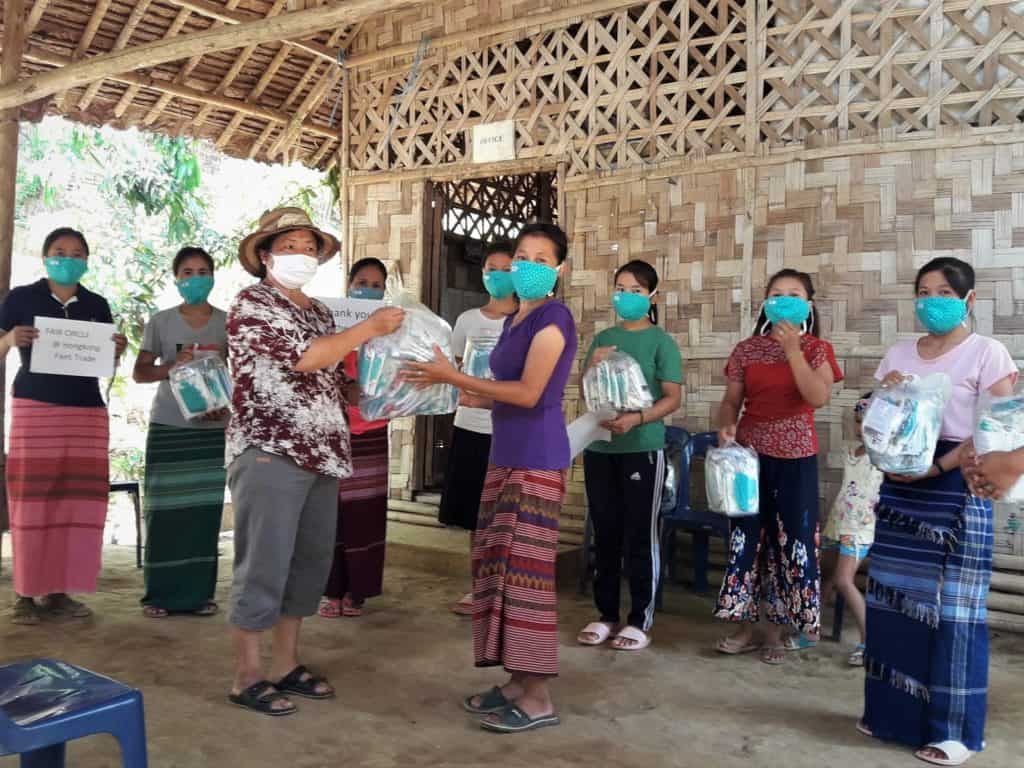 WFTO Asia is certain that there are more stories of everyday heroes among the Fair Trade Community in Asia. We are sure that there are more efforts out there towards supporting refugees across the region. Let us know your story. Collectively, we are writing her/history on how Fair Trade Enterprises are uniting in social solidarity in the time of COVID-19.