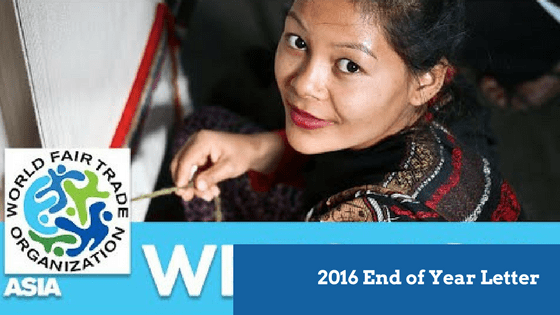 As 2016 comes to a conclusion, we at WFTO-Asia are reflecting on the journey of the past year. We are proud to say we it was a good year for Fair Trade in Asia and the statistics can attest to this.
WFTO representatives traveled to 24 cities across nine countries to identify opportunities and challenges and share knowledge and ideas on how to strengthen Fair Trade Movement. One-on-one support in navigating the Self Assessment Report was conducted with 34 Fair Trade producer groups. This report is the first step in the process of becoming a Guaranteed Member of WFTO. Achievements were especially evident during the Asia Fair Trade Summit in October, where 220 people from 29 countries attended and partook in fruitful workshops and discussions.
Our scope of collaboration was widened this year. By partnering with ISEA International (formerly Inter-Society for the Electronic Arts), we managed to bring the issues of fair and sustainable trade to an interdisciplinary academic discourse, increasing Fair Trade's exposure to a wide variety of audiences. During the Summit we partnered with Asia Fairtrade Pacific. The joining of two of Asia's most prominent leaders in Fair Trade represented a milestone in the Fair Trade movement. In addition to the above, meaningful relationships began or were continued with the British Council, the Thai Social Enterprise Office, the Yunus Center, and Oxfam.
We look forward with excitement to the year ahead. Building on knowledge and partnerships gained over the past year, we hope to make 2017 the best year yet for Fair Trade. WFTO-Asia will build on established relationships and continue seeking new channels for promoting the practices that our Fair Trade ethic is based on. Some exciting initiatives include Friends of Fair Trade – an online platform for individuals to register their support for Fair Trade and receive information on Fair Trade events and Fair Trade store promotions in their area. An online platform is also being designed to support the development of Fair Trade Towns in Asia. Not only will this initiative connect visitors to Fair Trade Towns, but more importantly it will build bridges for Fair Trade producers to share ideas and collaborate.
With regards to expanding market access to WFTO-Asia members, we are building on the experience of the Scaling-Up initiatives – an online platform connecting Fair Trade Organizations with buyers around the world.
Stay tuned to hear about more new initiatives and to follow the development of our exciting collaborations!