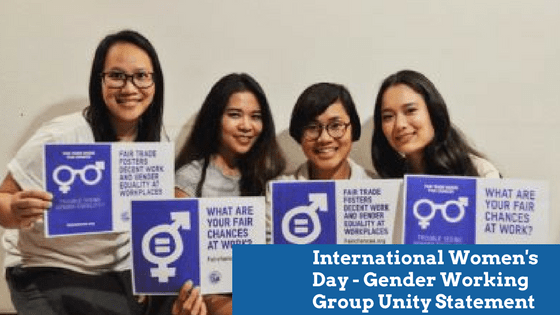 Dear Mothers, Sisters and Daughters; Fathers, Brothers and Sons;
Dear Allies of Women and Champions of Gender Equality;
We, the World Fair Trade Organization Asia Gender Working Group, commemorate International Women's Day, 2017. This year's theme is Be Bold for Change and in line with theme, we continue to advocate for Fair Trade as that emboldened action.
Historically and culturally, women's role has been confined mostly to unpaid hours of work – be it in their homes or outside their homes. Their participation, especially in economic decisions, is either unheard of or considered to be of low importance in many Asian communities. These perceptions exist most likely due to ingrained beliefs of women's worth being of no value. But now these perceptions are being eroded through the work of many organizations and individuals by bringing women to the forefront of economic activities, household decisions and leading organizations. Women's role in families and communities is being recognized and valued.
The Fair Trade movement cannot be separated from the specific role it plays in reducing the poverty of women in particular, and addressing the multi-polar forms of gender-based violence which stems from it. In Asia, 75% of Fair Trade producers and employees are women – that is 55 000 women within WFTO-Asia and its members alone. We, the Gender Working Group, believe that the equitable support of these women (and more) is fundamental to the realisation of the 2030 Sustainable Development Agenda and the overall reduction in global gender-based violence.
Fair Trade matters to women everywhere. Fair Trade provides the platform for organizations and individuals for intentional development of women and focused efforts to change perceptions of gender amongst women and men. While we strive to highlight success stories of women enjoying the benefits of non-discrimination and fair treatment, especially in workplaces; we are asking the question "What are your fair chances at work?"
The unequal treatment meted out to women in society at large has been an integral feature globally, and is particularly pronounced in the countries of Asia, including India. The manifestation of the manifold inequality that structures the existing reality of women has undoubtedly undergone changes over the years, however it still continues to hold significance in the Asian context. The secondary position occupied by women in countries like India is a result of the patriarchal norms and customs that construct the global social order. Accordingly, women's participation in the labour force has been limited within the narrow confines of this persistent social order, hindering the realization of their potential for economic and personal development.
In countries like Indonesia, the education level of women in rural areas is still very low. It is not uncommon for a 15-year-old girl to be married. This is due to education being prioritized for the boys. If within one family there are girls and boys, the son is likely to be schooled for longer when finances are restricted. Meanwhile the daughter must wait until her parents have money to send her to school again. In this way, men are given more access to lifelong economic security and empowerment.
However, despite a general consensus on the benefits of addressing gender inequality, efforts have yet to bring about the improvements and transformation needed to empower women in organized and unorganized sectors.
Fair Trade strives to help women realize their full potential and to get the respect in their communities that they deserve. Gender inequality remains a major barrier to human development globally. Fair Trade is dedicated to promoting equality and enabling women and men to access the benefits of Fair Trade equally.
Case Study: Sajeda (name changed) was socially and economically marginalized due to suffering from a skin disease. She found a job at Oasis Transformation LTD after a successful medical treatment. The stable employment has helped her overcome social and economic barriers. Now she is accepted in her family and community. Her self-worth and dignity are redeemed and she gained confidence through Oasis' adult literacy program.
Gender equality is good for women, women-led small businesses and the overall development of a just society. Fair Trade promotes Gender quality and strives to empower women. It also benefits small businesses, by providing technical and financial assistance; access to national and global markets, leading to micro and macro economic development, as well as bringing the fruits of their labour to the women. Fair Trade helps women take up leadership positions.  Ensuring that women farmers have the same opportunities to participate as their male counterparts will not only increase their income and their influence, but it could also boost the bottom line for businesses and improve development outcomes for communities in some of the world's poorest countries.
In Solidarity,
WFTO-Asia Gender Working Group[i]
Sujata Goswami, Sasha, India
Debanjana Das, Sasha, India
Rayhan Kabir, Hathay Bunano, Bangladesh
Helena Sanabam, Oasis Transformation Limited, Bangladesh
Milton Suranjit Ratna, CORR The Jute Works, Bangladesh
Netty Febriana, Biansa Home, Indonesia
Tanya Lutvey, WFTO-Asia, Thailand
[i] For more information on the WFTO-Asia Gender Working Group or to nominate yourself for participation, please contact Tanya at [email protected].