Meet the Fair Trade producers behind the slow fashion movement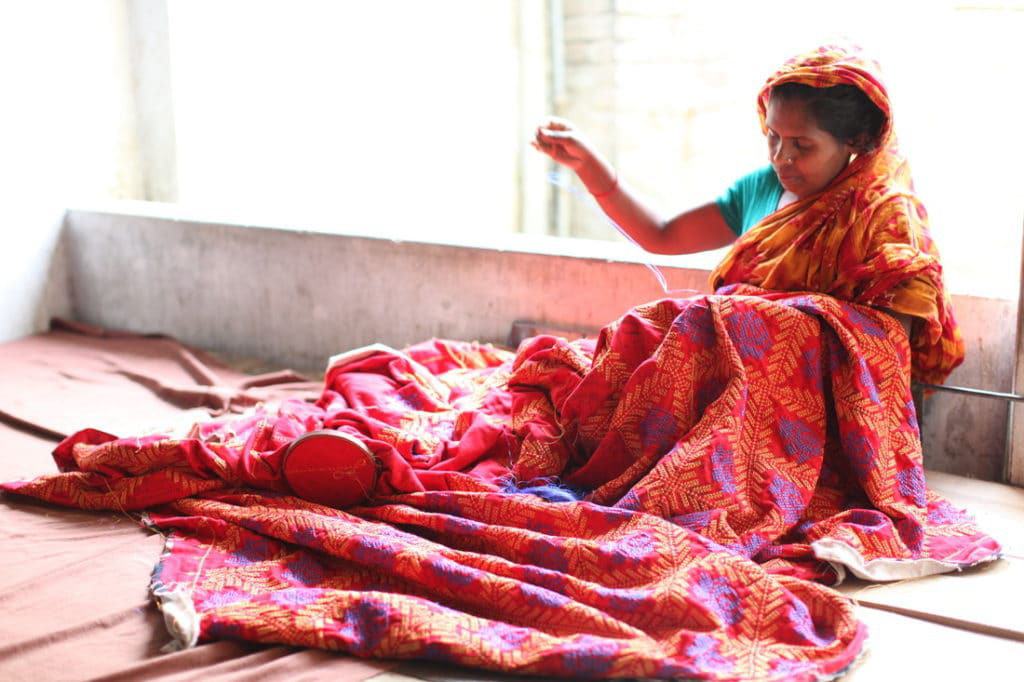 Every April, Fashion Revolution Week gives consumers pause to reflect on our buying habits. Rallying behind the catch-cry 'Who made my clothes?', we have a chance to apply positive pressure to brands and call for greater transparency. Fashion Revolution Week is also a time to celebrate the labels that are leading by example and shine a light on the people who make our clothes. Behind the world's favourite sustainable fashion brands is a network of artisans and producers—many of them based right here in Asia.
There are almost 90 WFTO Member organisations in Asia working in garments and accessories, each one of them using the 10 Principles of Fair Trade to help build a better fashion industry. With the growing number of Fair Trade producers comes new opportunities for fashion buyers, designers and manufacturers to incorporate Fair Trade values into their supply chains. Let's a look at some of the WFTO Asia Member producers behind the scenes of the global slow fashion movement.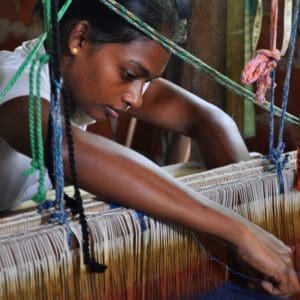 Fair Trade fabrics
Textiles—the building blocks of the fashion industry—have a long history of production in Asia. China and India dominate as the world's top producers of raw cotton and the two biggest manufacturers of yarn and cloth. Much of the clothing circulated on the global market is made using fabrics exported from Asia. The development of machine fabric weaving as a faster, cheaper alternative to hand weaving has mirrored the rise of fast fashion. In response, an increasing number of labels are turning to hand-woven fabric for its aesthetic qualities and added social and environmental value.
In Bangladesh, the transition to machine weaving has created significant challenges for artisans in rural areas. Founded in 2002 in direct response to the rise of machine weaving, Artisan Hut employs more than 250 people who hand-weave cotton, jute and jacquard fabrics according to traditional Bengali techniques. A growing market for high-quality, hand-woven fabrics among international buyers translates to more income opportunities for the women who work with Artisan Hut and other Fair Trade producer organisations. It also has environmental benefits: Hand weaving fabrics saves an estimated one tonne of CO2 emissions per year per handloom.
In Sri Lanka, Selyn is on a mission to revive the country's heritage of handloomed cotton by employing more than 1000 makers in its weaving and natural dyes workshop. Sana Hastakala (Nepal) supports women from the Limbu and Rai ethnic groups to weave traditional Dhaka fabric, and Women's Skills Development Organization, also in Nepal, works with women from the Gurung community who weave on backstrap looms—thought to be one of the oldest forms of weaving in the world. There are no limits to what Fair Trade producers can create with time-honoured weaving skills. In 2017, Villageworks Songkhem (Cambodia) partnered with Fair Trade Scotland to weave the world's first Fair Trade tartan!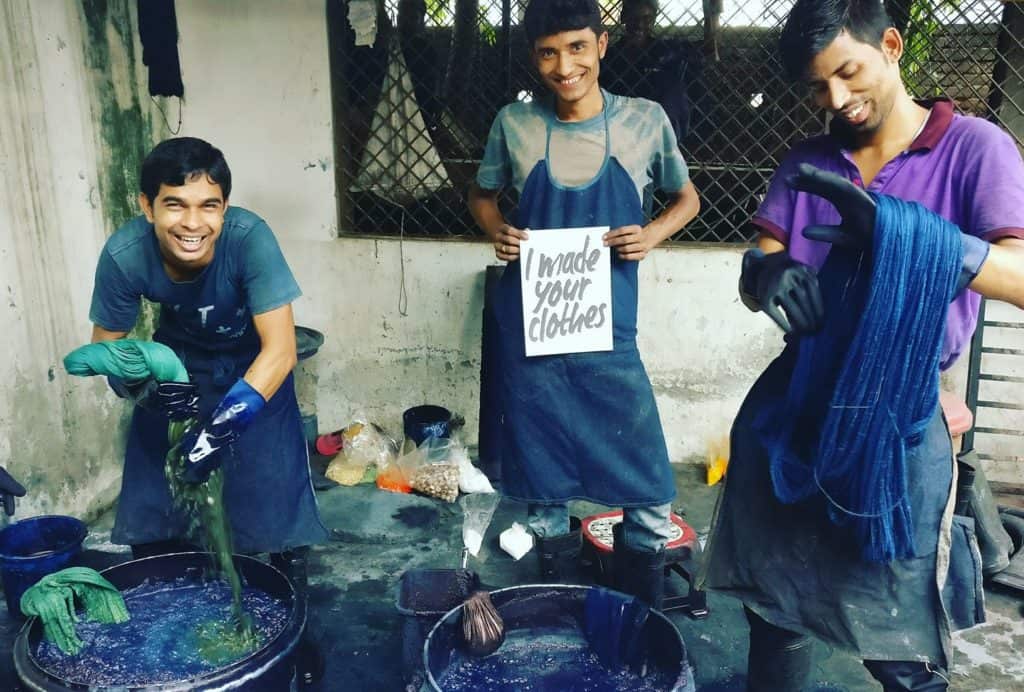 Natural dyes
Fabric dyeing is one of the most resource-intensive and harmful stages of garment production. The use of toxic dyes can have a devastating effect on workers' health and the the natural environment. This is especially true in countries such as India and Bangladesh, where much of the world's fabric dyeing takes place. Labels that choose to work with natural dyes as an environmentally and people-friendly alternative to synthetics are advocating for a cleaner fashion industry.
Ruby Ghuznavi has dedicated her life to reviving Bangladesh's natural dye traditions. Decades of research and experimentation by the Fair Trade organisation she founded, Aranya, has resulted in a library of colour-fast natural dyes suitable for use in large-scale fabric production. Based in Dhaka, Aranya dyes and prints a range of signature fabrics to create their own collections of saris and ready-to-wear garments.
In Laos, Mai Savanh Lao and Mulberries are two Fair Trade organisations that do pioneering work in sericulture and natural dyes. In neighbouring Cambodia, Goel Community works to re-introduce plant dyes to cotton weavers in rural Takeo province.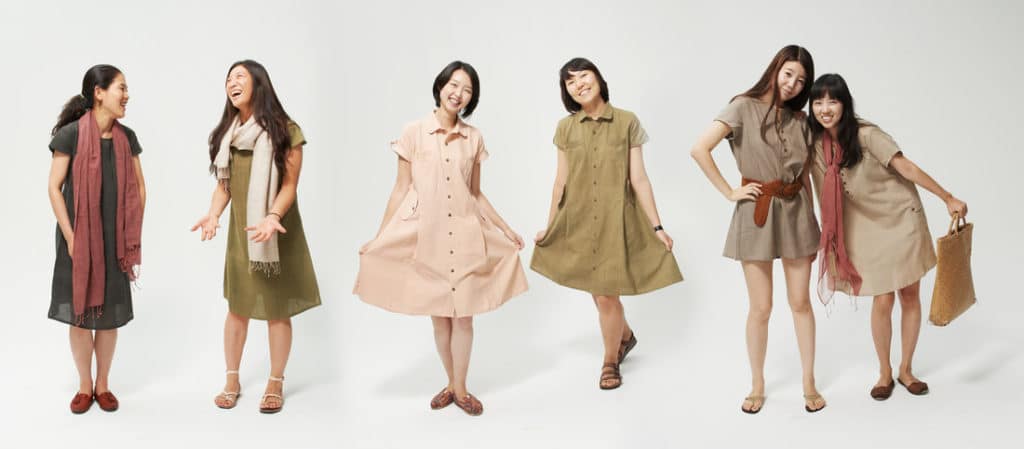 Artisan skills
Fair Trade producer organisations across Asia are contributing to the preservation of heritage skills through product design and training, and by linking artisans with international markets. An increasing number of fashion designers and labels outsource to Fair Trade producers in Asia, a testament to the quality of their handiwork.
Sasha Association for Handicraft Producers in Kolkata is one of many Fair Trade organisations working with Indian heritage skills such as kantha stitch, blocking printing and aari bead embroidery. Established in 1978 and partnering with more than 100 artisan groups, Sasha works with a number of international fashion brands, including People Tree UK. Many Fair Trade producers partner with women from ethnic minority groups, refugees or internally displaced people whose livelihoods and skillsets have come under threat through conflict or forced migration. WEAVE (Thailand) works with women from the Karen and Karenni ethnic groups to promote textiles as a pathway to self-sufficiency. In Pakistan, Zardozi contributes to protecting Afghani embroidery skills by creating new opportunities for refugee artisans. Thanapara Swallows Development Society uses handicraft training as part of a broader vision for economic and social development near the Bangladesh-India border.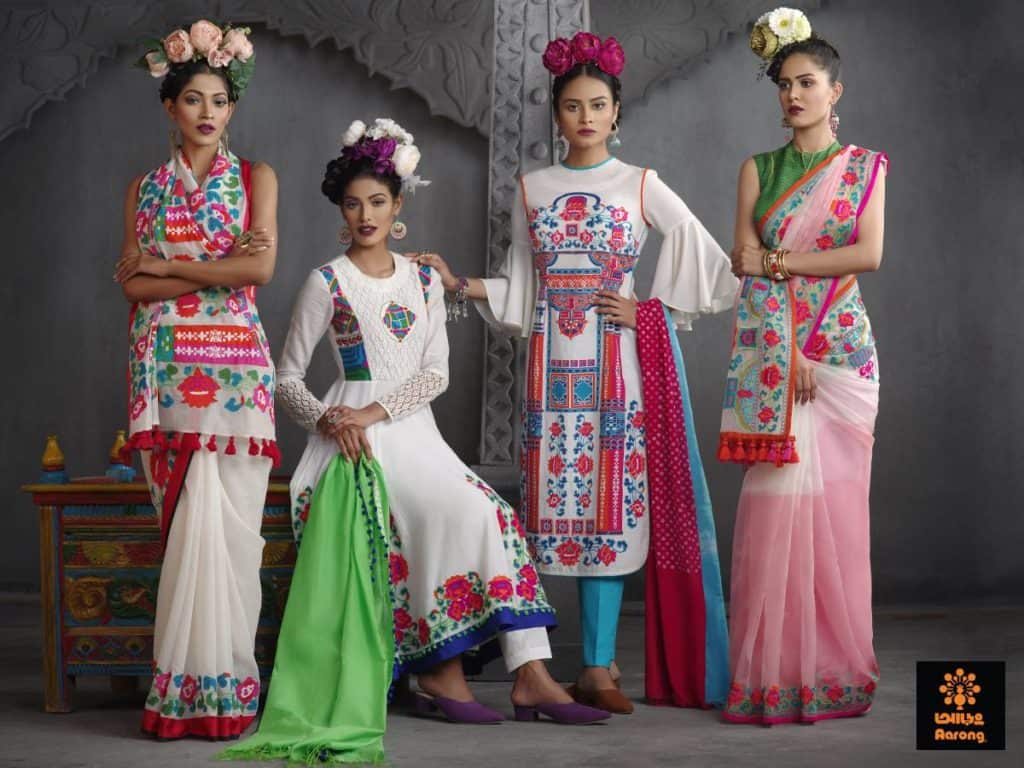 A different way of doing business
Fashion Revolution advocates for transparency in global fashion supply chains, which are notoriously complex and opaque. Seeking to establish direct connections between producers and buyers and to empower artisans to play an active role, Fair Trade organisations are creating a new, fairer way of doing business.
One of Bangladesh's biggest retail chains and tenants of the largest retail space in the country, Aarong proves that scaling up doesn't have to mean compromising on ethics. A BRAC project, Aarong partners with the Ayesha Abed Foundation to outsource production of its fashion and homewares to a network of rural artisans that numbers more than 30,000 individuals. In India, Freeset Bags & Apparel works directly with brands and businesses to fulfil large-scale orders of bags, garments and merchandise, providing meaningful employment for more than 250 women in the process.
—
Whether it's fabrics, dyeing, embellishment or partnering directly with artisans on production, there are more opportunities now than ever before for the fashion industry to work with Fair Trade producers in Asia. Buyers, designers and manufacturers can use WFTO Asia's Raw Material and Product Search to browse producer organisations by location, and material.
Author: Emily Lush, Contributing Writer