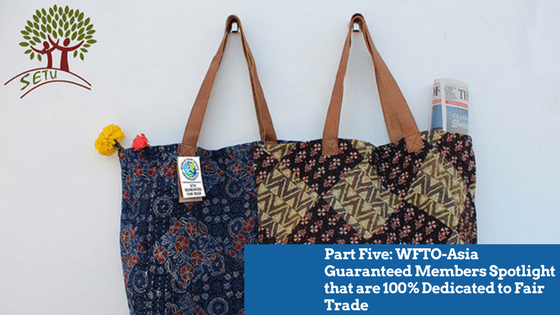 We've come to the last of our spotlight series. Thanks to all our contributors for sharing what holding the WFTO Label means to their organizations' as well us detailing all the important and pioneering activities that they do to ensure that they work with the highest ethical and sustainable principles.
SETU works across 18 states of India. Their products that hold the WFTO Label are handcrafted pieces such as jewelry, wooden handicrafts, textiles, bags and accessories. Rashmi Dhariwal, the CEO, spoke with us about what makes these products exceptional:
"All of SETU items are handmade with love, following the 10 Principles of Fair Trade. Every item made and purchased makes a difference to the lives of the artisans. Every product that we make is sustainable and is a step towards achieving social, economic and environmental sustainability. Being a Fair Trade Organization means that every effort is made by us to make a positive difference in someone's life! SETU are contributing to make a better and sustainable world! The WFTO label on our products not only infuses pride and honor in our artisans but also assures our customers that we are all striving together to make a better and fairer world… together!"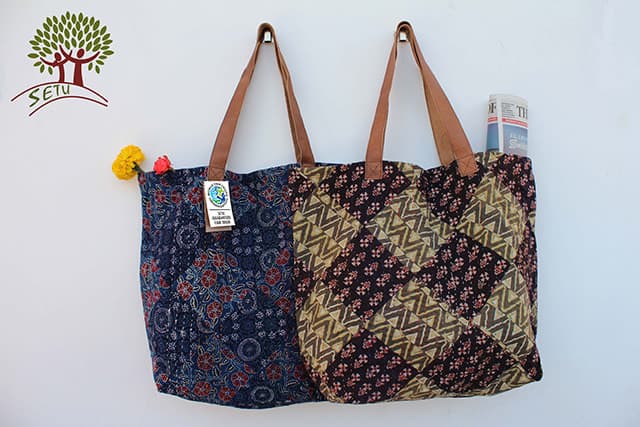 SETU creates spectacular, intricate and design focused pieces, like these cute recycled saree bags, whilst always ensuring that their workers are treated honestly and with the utmost respect.
Pushpanjali is based in Northern India. Their guaranteed products are a dynamic range of fashion accessories and home décor. These products are unique as they are handcrafted using simple tools and embrace the traditional skills and cultural identity of India. Mr S.C.Mittal, Founder Pushpanjali, had this to say about the label launch the "WFTO Label on our products means we are recognized in the world market place as   guaranteed Fair Trade producer organization, who are committed to the people behind the products". The organization stresses the importance of gender equality and empowerment to its small-scale producers and workers. Pushpanjali also hold sustainability close to their heart and make use of ecofriendly and raw materials. They also make desirable soup dispensers.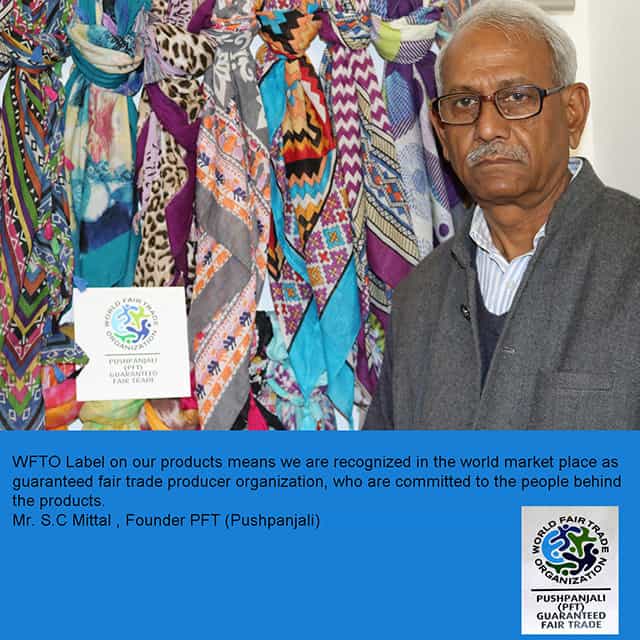 Maroma has been a trendsetter in natural home fragrances and body care products in India for over 35 years. They make exquisite body care and home fragrances, in house, working directly with the producers. Joshua Johnson, the Sourcing Manager, had this to say about the company holding the WFTO Label:
"Since its inception the motto of Maroma has been to follow the Fair Trade Principles for all those involved with the company, taking care of the cleanliness and safety of the work space to the well-being of the workers. Carrying on a business with consciousness and integrity to produce not only a beautiful product but to make it in an environment reflecting the products produced is our sprit. The guaranteed label will provide an assurance to buyers that Fair Trade is implemented in the supply chain and practices of the organization as a whole. We are proud to display this logo on our products."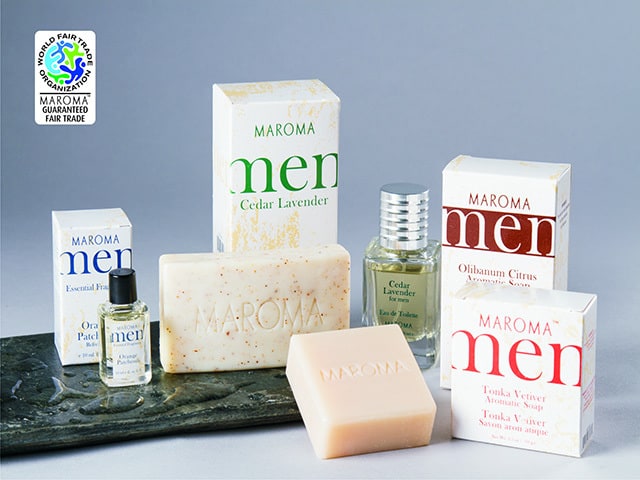 Maroma's products are non-toxic and free of animal testing using natural sustainable materials wherever possible. Their candles are made by hand with imported cotton wicks and international standard colors as well as high grade paraffin wax and vegetable wax from sustainable sources are all part of an ever growing unit. The incense is machine rolled on bamboo sticks and the use of handmade paper packets in their signature line Encens d'Auroville, as well as other lines to give them a unique packaging that does not deplete the forests and is recyclable. Joshua adds that they are ever "evolving and replacing synthetic raw materials with natural ingredients whenever possible, including natural preservatives and natural colors."
The ethical credentials combined with their scrumptious smells ensure that these products have any user glowing both inside and out.
Look out for the WFTO Label on handicraft and food products and be assured that these products are produced and/or traded by guaranteed Fair Trade Organizations whose practices are checked against the globally acknowledged 10 Fair Trade principles. You can find out more about our Asia guaranteed members here or to be connected with an organization, get in touch with communications(at)wfto-asia.com.
If you enjoyed this post, we'd be very grateful if you'd help spread it by emailing to a friend, or sharing it on Twitter or Facebook. Thank you.
Article by Mia Hadrill, Communications Manager, WFTO-Asia