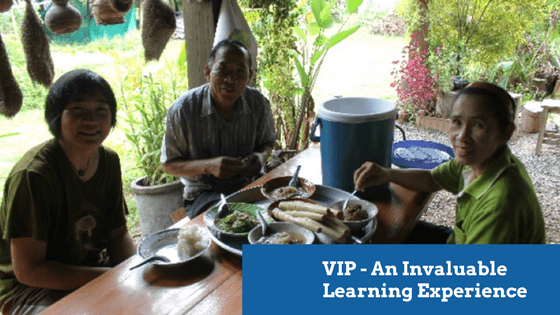 Interning at WFTO Asia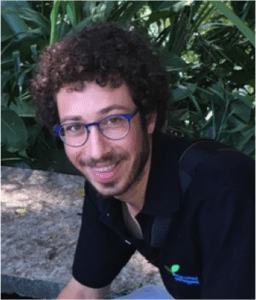 I am 22 years old, French, and a student of agronomy – the science of using plants for food. I recently had the opportunity to take a year out before finishing my studies, and I took this opportunity to become a volunteer. Interested in sustainable and small-scale agriculture, responsible consumption, and international solidarity, I wanted to learn more about these issues and become more involved. I knew that Fair Trade was a movement which linked all of these topics. So I decided to devote my year off to acting as a Fair Trade volunteer.
Fortunately I discovered WFTO Asia and its Volunteer Internship Program (VIP). I contacted the staff and they offered to send my application to their members involved in farming projects. I had been particularly drawn to one of these members, Green Net Cooperative, an organisation from Thailand. With WFTO Asia acting as a liaison I got in touch with Green Net and we discussed the possibility of volunteering.
Green Net is a Guaranteed Fair Trade Member of WFTO since 2009. The organization works with groups of organic producers in Thailand, helping them find markets for their products and improve their organic farming practices. A part of the organic products from its farmers (rice, cashew nuts, coconut) is exported in fair trade networks to Europe. But Green Net also helps farmers market products locally.
Green Net suggested that I be placed in Mae Tha, one of the first villages to join their network. This small village is located in Northern Thailand, close to Chiang Mai. Mae Tha was to become my home for five months!
In the field: Hands-on with Fair Trade
My assignment was to work in a centre producing organic vegetable seeds. The project has been managed for five years already by one of the young farmers from Mae Tha, Mathana. In addition to the production, she receives many groups of people who want to know more about organic and open-pollinated seeds.
I helped to produce these seeds, to plant and take care of the vegetables, and to harvest and clean the seeds. In addition, I helped some people in the village improve their English.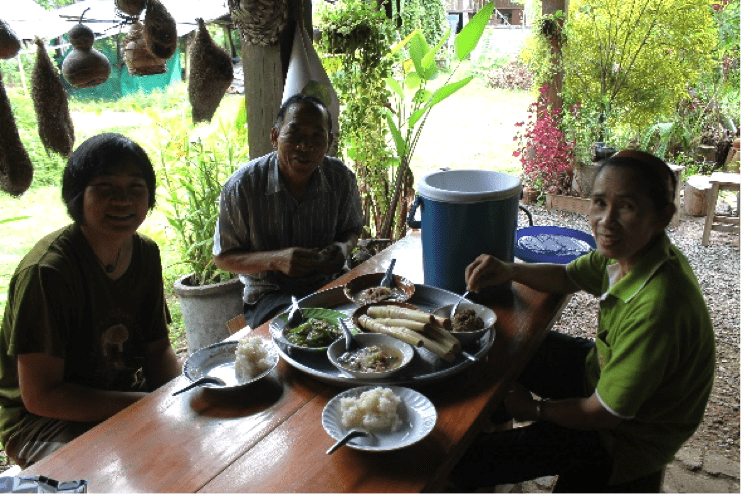 I lived with a family in the village. Sharing in the daily life of a traditional farming family was a great way to discover and experience another culture and its subtleties. I felt very welcomed in the village, where I could take part in both daily life and traditional ceremonies. I also had the option of exploring nearby areas in my free time. I met a lot of people, Thai people as well as visitors from around the world, coming to Mae Tha to learn from the farmers' experience.
An organic revolution
Indeed, Mae Tha is becoming increasingly famous for the model of sustainable agriculture its residents have practiced for more than 30 years.
Mae Tha, like many other places in the world, experienced the Green Revolution some decades ago. Farmers adopted the techniques of 'modern' farming, using chemical fertilizers, pesticides, and selected varieties, and grew cash crops as monocrops. But 30 years ago some farmers in the village began to realise the impact this farming system had on their health, on their environment, and on their incomes. In fact, inputs were growing more and more expensive, which made their debts increase fast. A small group of farmers decided to change the way they practiced agriculture, and began to grow food for personal consumption first. They stopped using chemicals and started to grow a lot of vegetables and fruits in addition to the rice that each family grows traditionally. The surplus was sold on the market to generate a small income.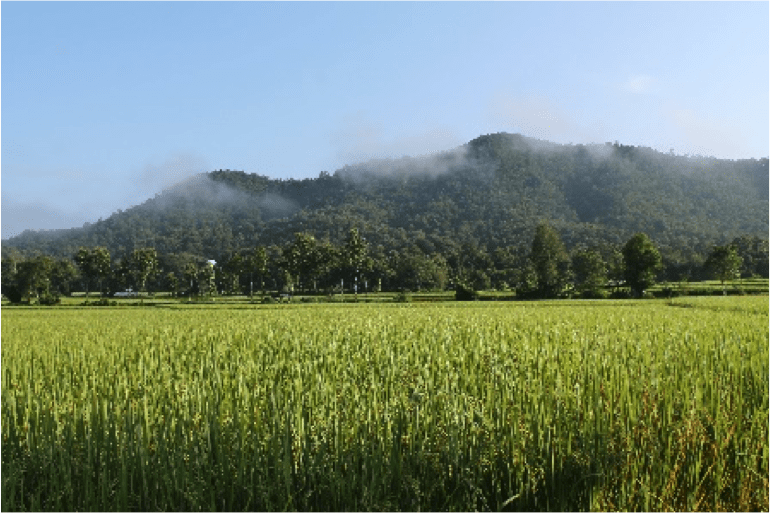 Year after year the movement has become bigger, and now more than 100 families from Mae Tha take part in this group of sustainable farmers. They mostly sell their products to local markets and in Chiang Mai city.
What they practice and promote is not only a different farming system, but rather an alternative philosophy of life. Their goal is to work for food first rather than money, and to be partly self-sufficient. Most farmers also have a small lucrative business in addition to their farm, which enables them to afford modern conveniences. This way they can stay in their village and provide themselves with all they need – that is to say food, home, land, and a good quality of life.
What is particularly interesting is the involvement of young people in the organic movement. The children of those who led the movement in Mae Tha 30 years ago have created a group, Maetha Organic, with the goal of promoting organic living in the village. They opened a coffee shop one year ago that enables local people and visitors to meet and learn from each other. Some young farmers have also organized a CSA project, selling vegetable boxes every week in Chiang Mai city. They also organise trainings for visitors who want to learn about the local organic farms.
An invaluable learning experience
This volunteering experience was an opportunity to discover Thai culture, see the processes of organic agriculture first-hand, and discover a self-sufficient way of life. But it was also a means to learn more about Fair Trade, to think about international solidarity, and to feel the connection between all alternative movements in the world.
It was particularly interesting to become aware of the problems faced by the producers from the 'South' and how fair trade can impact them. I would like to share some of my thoughts regarding this issue.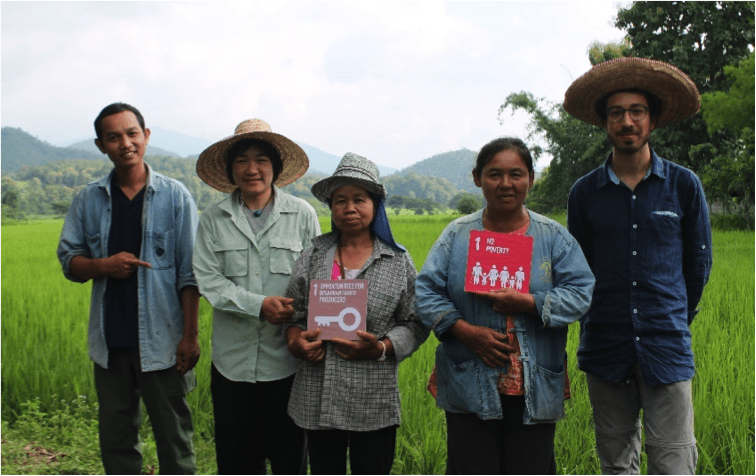 Before this volunteering, I often wondered if fair trade was not competing with food production for self-consumption. Many people I spoke to said that even if they got a good income from their Fair Trade activities, farmers were still growing food for their personal consumption. Incorporating subsistence agriculture is also what is promoted by local Fair Trade organisations such as Green Net.
Some decades ago, most people were able to be totally self-sufficient; but today at least some money is needed to pay for education, to save for retirement or medical needs, and also to enjoy modern facilities. To achieve this goal, some people decide to leave the village and go to the city where they build a new life. But others decide to stay in their village and start a small business or grow cash crops. Fair Trade helps them to get a fair income, supports their development, and thus enables them to stay in their village.
Moreover, I saw with the example of Green Net that fair trade is a means to encourage farmers to practice sustainability. The guaranteed price that is agreed upon by farmers enables them to compensate for the risk they take by switching to organic methods. Furthermore, Green Net provides technical advice about sustainable farming practices. Without this help, going organic would prove far more difficult.
The collective dimension is also very important. Farmers organize themselves in Fair Trade (FT) groups, where they can exchange and learn together. Supporting these groups is one of the roles of local Fair Trade organizations like Green Net.

Last but not least, with the example of farmers from Mae Tha, I have realised that Fair Trade is not only a relation between producers from the 'South' and consumers from the 'North'. In fact the principles of Fair Trade can be applied on a local scale: fair prices, long term relationships, good working conditions, respect for the environment, and so on, are also extremely relevant to local producers.
After this experience, I really feel more than ever like I am a citizen of the world. I am inspired to continue promoting Fair Trade. I am more committed than ever to fostering international solidarity and sustainability by practicing responsible consumption and being involved with organisations like WFTO Asia. The wealth of knowledge I have gained about sustainability, organic farming techniques, human relations, and about organising alternative movements at different scales, will all contribute greatly to my future professional endeavours.
Some tips for the next VIP applicants:
The role of WFTO is really to put us in touch with member organisations. Then, the practical aspects (role of the volunteer in the organisation, housing, visa, remuneration or compensation…) is discussed with the host organisation.
The procedure to obtain a visa is different according to the countries. For Thailand, it is possible to get a volunteer visa for 3 months with just an invitation letter from the host organisation.
For this volunteering, I was not paid, but I get accommodation and meals for free. It depends on the organisation, but many are similar to this.
I think it is really worth planning some weeks after or before the volunteering to visit other parts of the country where you work (or countries in the region). It would be sad to limit your trip to a single place! Eco-tourism and volunteering are good ways to travel responsibly!
Enjoy!!
By Lucien Jallot, volunteer from September 2016 to February 2017