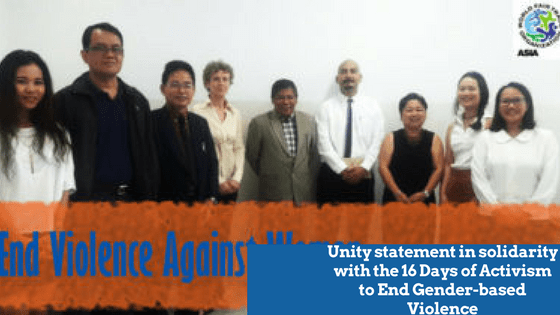 Dear Mothers, Fathers, Sisters, Brothers, Sons and Daughters;
Dear Allies of Women and Champions of Gender Equality;
We, the World Fair Trade Organization-Asia Gender Working Group, commemorate the 16 Days of Activism to End Gender-Based Violence. This year's theme is sustainable financing for efforts to end violence against women and girls towards the fulfilment of the 2030 Agenda for Sustainable Development; Orange the World: Raise Money to End Violence Against Women and Girls. Goal 1 of the Sustainable Development Goals (SDGs), to end poverty in all its forms everywhere, is the underpinning force driving the Fair Trade movement and thus the SDG's and the Fair Trade movement are mutually beneficial tools to the realisation of one another.  We are both working towards a common goal.
The Fair Trade movement cannot be separated from the specific role it plays in reducing the poverty of women in particular, and addressing the multi-polar forms of gender-based violence which stems from it. In Asia, 75% of Fair Trade producers and employees are women – that is 55 000 women within WFTO-Asia and it's members alone. We, the Gender Working Group, believe that the equitable support of these 55 000 women (and more) is fundamental to the realisation of the 2030 Sustainable Development Agenda and the overall reduction in global gender-based violence.
Following the recent adoption of the WFTO Global Gender Policy, and in line with recent action taken within the organisation to advance the economic empowerment of women and gender equality (in line with Principle 6 of the 10 Principles of Fair Trade; Commitment to Non Discrimination, Gender Equity and Women's Economic Empowerment, and Freedom of Association[1] and SDG's goal 5; Achieve Gender Equality and Empower all Women and Girls[2]) we make the recommendations below to Civil Society, Governments and beyond. In order to sufficiently finance the end of gender-based violence, the following need to be taken into consideration:
1. Fair Trade is a movement that contributes to the reduction of poverty and gender-based violence. It provides a sustainable solution in the face of numerous global challenges and thus must be acknowledged as integral to the achievement of the 2030 Development Agenda.
2. Capacity building on gender is an ongoing activity and necessary in all sectors. Sufficient time and resources should be invested in it. Our experiences are different. Our country-contexts, political situations and religious ideologies are different. Therefore, nuanced and continuous sensitisation and awareness-raising activities level everyone onto the same platform to ensure to successfully work towards the end of gender-based violence.
3. It is not enough to employ women in your organisation/institution; gender equality requires gender-sensitivity and equitable solutions at all levels. Many of WFTO-Asia's members employ a predominantly female workforce. We must acknowledge that our job hasn't ended with the employment of women. We must ensure that these 75% of women, many of whom are from poor and disadvantaged backgrounds, receive the support necessary to live lives that are free from discrimination, violence and poverty.
4. The empowerment of women, and the realisation of gender equality is everyone's Women cannot be empowered without men also being empowered. Likewise, women cannot fight for their equality without the support of their male peers. Similarly, much progress can be made from empowering and educating the youth, so that they might carry forth the work towards a sustainable and equal future.
5. There can be no end to poverty, or gender-based violence, without the equitable inclusion and meaningful participation of women at every level. Gender equality and women's economic empowerment do not require a top-down approach. Real change can come from the bottom and from the top. One cannot be effective without the support of the other.
6. There is not only one model for supporting women's empowerment and gender equality in the workforce, and beyond, especially in a region as diverse as Asia. WFTO-Asia members have numerous stories, best practices and lessons learned on their experiences in addressing gender, and when given the space, these strategies can be inspiring and motivating for the rest of the movement. These spaces need to be adequately and regularly financed within all sectors, which involve women.
In Solidarity,
WFTO-Asia Gender Working Group[3]
Sujata Goswami, Sasha, India
Debanjana Das, Sasha, India
Rayhan Kabir, Hathay Bunano, Bangladesh
Helena Sanabam, Oasis, Bangladesh
Milton Suranjit Ratna, CORR The Jute Works, Bangladesh
Bertha Gity Baroi, CORR The Jute Works, Bangladesh
Netty Febriana, Biansa Home, Indonesia
Tanya Lutvey, WFTO-Asia, Thailand
[1] For more information on the 10 Principles of Fair Trade, please click here.
[2] For more information on the SDGs, please click here.
[3] For more information on the WFTO-Asia Gender Working Group or to nominate yourself for participation, please contact Tanya at [email protected].