At the Head Office, we have been eyeing up all the fantastic products that now hold the WFTO label. From Nepal to Bali, here is the second part to our five day daily summary celebration in support of the WFTO Product label Global launch (happening in Frankfurt) of all the magical pieces now available. All the items generate rich social impact around the world.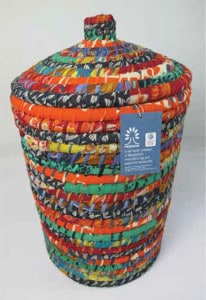 Prokritee supports over 1,500 artisans in the rural areas of Bangladesh. Their innovative use of different natural, recycled, and wastage resources means that they have a dynamic range of products crafted from an array of exciting materials. The guaranteed products include table mats made out of sea grass, natural grass laundry baskets and recycled fabrics, handmade paper Christmas decorations made from water hyacinth, waste jute, pineapple leaves, and silk, journals made out of waste jute and handmade paper lampshades! All of these handmade items are created with AZO free dyes. Swapan Das, the Executive Director, had this to say in support of the WFTO label Launch: "Prokritee practices true Fair Trade, benefiting the producers, consumers, and worldwide community, without compromising on quality and design."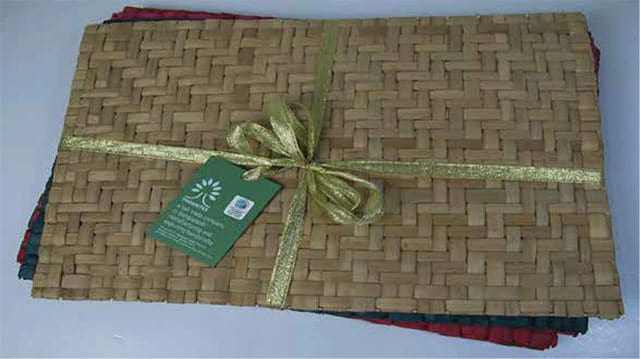 Eighty percent of the Association for Craft Producers products are WFTO guaranteed. The Nepal based groups create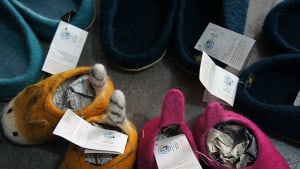 largely textile, felt, ceramics, copper and woolen products. WFTO spoke with Meera Bhattarai, the Executive Director, to understand more about their products' unique qualities:
"All of our products are handmade and narrates the excellent craftsmanship of our artisans. They have been produced by our artisans with dedication and dexterity. Each product reflects the hard work and imagination of our artisans making each product unique. Association for Craft Producers, Nepal (ACP) team is proud to be among the first 14 organizations to be certified as guaranteed Fair Trade Organization. The Fair Trade label has contributed significantly towards better positioning ourselves in the national, regional and global market as well as in the society."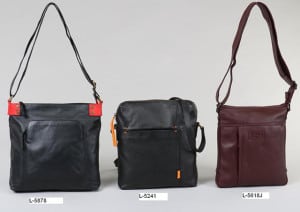 Madhya Kalikata Shilpangan (MKS) work with 14 producer groups in India who have the guaranteed label on their pieces. These products are leather, instruments, silk, hand woven scarfs, wooden products and stuffed items. Mithu Dam, the Secretary, had this to say:
"MKS is fully committed towards sustainable production and ethical trade. We strictly follow the 10 Principles of Fair Trade (http://wfto-asia.com/credibility/charter-of-fair-trade-principles). We take pride that our employees make our beautiful products in a happy, safe and healthy working space. The workspaces production processes are designed in a way to create the least amount of air, water and noise pollution. We believe in equality and never encourage discrimination based on any religion, caste, gender, socio-economic background and physical ability. We take pride in maintaining the Fair Trade Standard with respect to environmental, social and economic practices."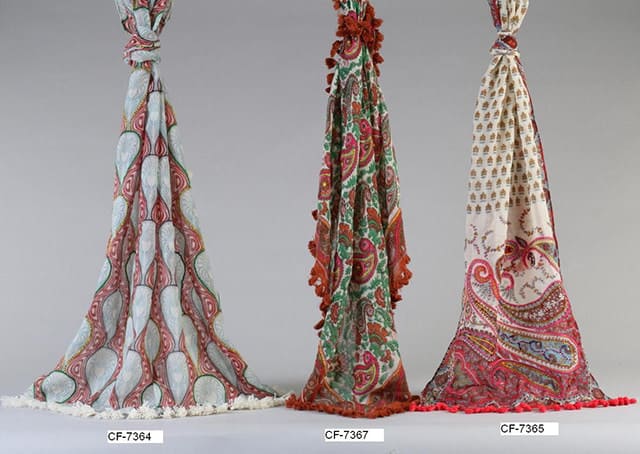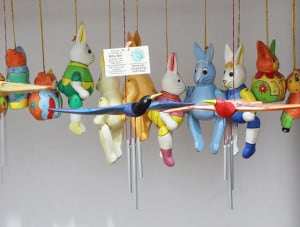 Mitra Bali boasts talented artisans who create an impressive range of handcrafted products, including homewares, decors, gifts and accessories, all made by artisan families, from local materials, in Bali. These quality items are produced with respect to the workers and the environment. WFTO-Asia interviewed Hani Duarsa, the Trading Manager, on how they feel about the label launch:
"The WFTO label means a lot for us, it demonstrates that we are on the right track with the 10 Principles of Fair Trade. Fair Trade is good for everyone involved: the artisans, buyers and consumers. Fair Trade is the solution to today's unfair trading systems, at the moment it may be small but it is certainly big in impact!"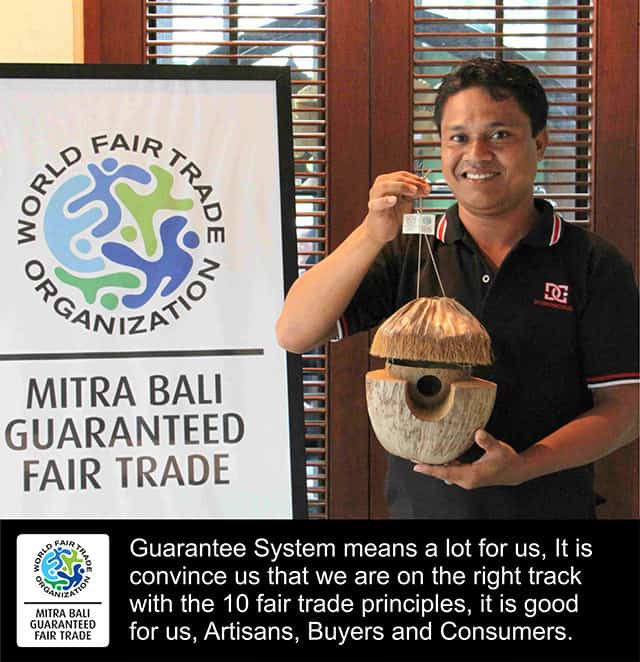 At the office, we adore their wooden painted animals, which are made from sustainably sourced wood and painted with toxic free paints. With so many colours and styles to choose from there's a favorite for everyone.
The new label is based on more than 50 years of experience on Fair Trade. It represents an important step towards the recognition that an alternative economic model, more humane and sustainable at different levels, is actually possible. By buying products carrying the new WFTO label, we can make a concrete contribution to the creation of a more just world, to help fight poverty, social injustice and discrimination, to support economically-disadvantaged small producers, and to promote human and environmental rights. To find out more about WFTO-Asia's producer groups, check out their website from our map (http://wfto-asia.com/asia-guaranteed-members/) where you can see a full range of their products.
If you enjoyed this post, we'd be very grateful if you'd help spread it by emailing to a friend, or sharing it on Twitter  or Facebook. Thank you.
Article by Mia Hadrill, Communications Manager, WFTO-Asia